Multifunktsionaalne GPS- kompuutri ja sukeldusfunktsioonidega käekell
Premium full-featured dive computer with surface GPS in a sleek watch-style design; with bright 1.2" color display and TOPO mapping
Built-in sensors include 3-axis compass, gyroscope and barometric altimeter as well as GPS and GLONASS capability that lets you mark your dive entry and exit points¹ for surface navigation
Supports single-gas, multi-gas, gauge and apnea diving, including nitrox and trimix; plan your dives directly on the device
Dive log lets you store and review data from up to 10,000 dives — and share online via Garmin Connect™ and its included mobile app
Features Elevate™ wrist heart rate technology² with multisport activity profiles, performance metrics and smart notifications³
Battery life: up to 19 days in watch mode, 10 days in smartwatch mode, 40 hours in dive mode and 20 hours in GPS mode4
Whether you dive with or without tanks, in saltwater or fresh water, breathing nitrox, trimix or holding your breath — Descent Mk1 is the intuitive, do-it-all dive computer you've been waiting for. It's the first watch-sized dive computer to offer surface GPS navigation with full-color onscreen mapping and location reference — so you can easily mark your dive entry and exit points¹.
Once underwater, the proven Bühlmann ZHL-16c algorithm makes sure you're staying within your dive limits. Selectable tone and vibration alerts help keep you informed while you're submerged. Returning topside, Descent Mk1 also functions as a robust training companion, offering the best features of our fēnix® 5Xultimate multisport GPS watch, including smart notifications³ to help you stay in touch on the go. What's more, the Descent Mk1 design is so sleek, comfortable and elegantly crafted, you'll want to wear it as your everyday timepiece.
Breathe Easier, Dive Better
Providing easy-to-access features for a range of diving activities — including the ability to plan dives on the device for recreational, technical and free diving — Descent Mk1 provides all the key, real-time data you need for a confident dive. The computer is automatically activated when you hit the water, showing your current depth, dive time, water temperature, ascent/descent rate, no-deco time, decompression stop information, battery life and more on the unit's crisp 1.2" color display.
You can set the audible tone and vibration alarms to provide reminders at critical points in your dive. And up to 6 different gas mixes are supported, including nitrox and trimix (up to 100% oxygen). Configurable conservatism settings let you adjust your personal safety limits.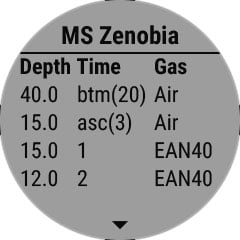 Multiple Navigation Sensors
In addition to its high-sensitivity GPS and GLONASS satellite tracking for map-based surface navigation, Descent Mk1 also provides a full array of ABC (altimeter, barometer and compass) sensor capabilities for topside navigation. And the easy-to-read compass display is available for underwater use as well. The built-in altimeter provides elevation data, while the tilt-compensated 3-axis electronic compass keeps your bearing — whether you're moving or not. For quick access to the compass display, a handy "tap to compass" feature lets you simply double-tap the screen instead of pushing the function buttons.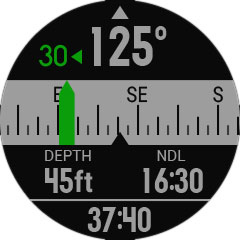 Wrist-based Heart Rate
The Descent Mk1 dive computer uses Garmin Elevate wrist-based heart rate technology² to optically scan your pulse (when worn in contact with your skin, not over a wetsuit or dry suit). The dive computer tracks your exertion levels and uploads your heart rate data automatically to your Garmin Connect online account for post-dive review and analysis.
Advanced Multisport Watch Features
Beyond its full range of dive computer functions, Descent Mk1 also offers a complete feature set of sports/training, fitness and outdoor navigation tools, leveraged from our popular fēnix line of high-end multisport watches. You can tap into an array of physiological metrics, running dynamics, fitness tracking features and more — to monitor your workout stats, measure your progress and help avoid injury. Special preloaded activity profiles are provided for swimming, running, biking, hiking, skiing, rowing, paddle boarding and more. Various timekeeping, lap counts and map tracking functions are easily accessible. Plus, for added motivation, you can even download advanced workouts and training plans to your device from Garmin Connect.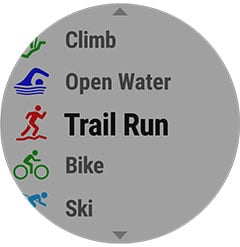 Smart Connectivity
When paired with your compatible smartphone³, Descent Mk1 makes it easy to receive text messages, emails and smart notifications right on your watch face. It also gives you access to automatic uploads with Garmin Connect, audio prompts, music controls and more. While you're topside, friends and family members can follow your location and adventures online, in real time, using the LiveTrack feature. Or you can use GroupTrack and your map display to keep tabs on your activity-sharing buddies as you go.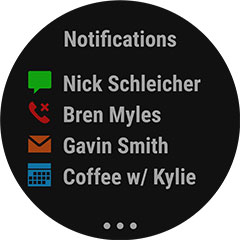 Premium Materials, Elegant Style
Crafted of premium grade materials, the Descent Mk1 dive computer is available in 2 distinctive styles: a stainless steel bezel with treated silicone watch band or a deluxe titanium bezel version with brushed DLC titanium bracelet. Both models offer advanced GPS and GLONASS satellite reception, via an EXO™ omnidirectional antenna in the bezel, for better reception in challenging environments (versus GPS alone). A bright, high-resolution, full-color Garmin Chroma Display™ with LED backlighting assures great readability in all lighting conditions, above or below the water. And for added scratch resistance, both models incorporate a high-strength domed sapphire lens.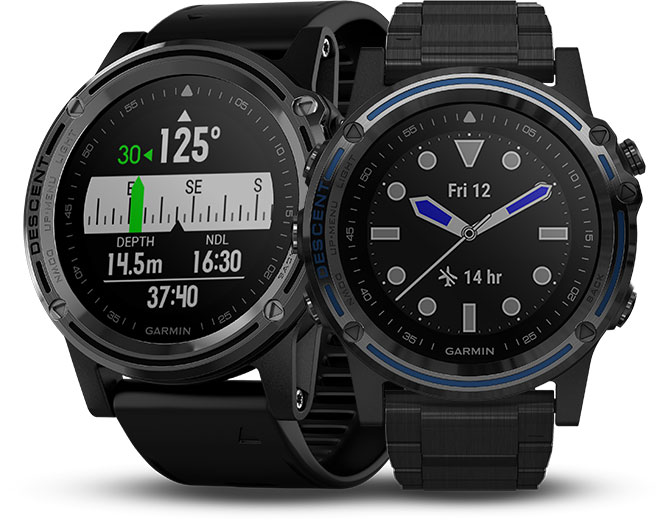 Charge It Up, Change It Up
Between charges, you can count on up to 40 hours of battery life in dive mode, up to 19 days in watch mode, up to 10 days in smartwatch mode and up to 20 hours in GPS mode (all depending on settings). QuickFit™ bands let you tailor your wrist-worn style for any daily activity or special occasion — no tools required. And for diving, longer QuickFit straps are included for use over thick wetsuits or dry suits.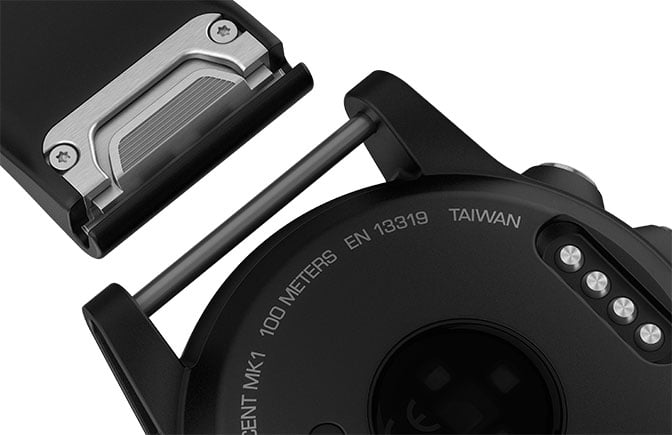 You can customize the watch display with free watch faces, apps and data fields from our Connect IQ™ store. For your safety, Connect IQ functions are not available while diving, so we can ensure that all dive capabilities are functioning as they were designed. Both Descent Mk1 models are also Wi-Fi®-enabled, so each can connect to your wireless network and automatically send activity uploads for sharing on Garmin Connect.

¹GPS tracking does not work underwater
²See Garmin.com/ataccuracy
³When paired with a compatible smartphone; see Garmin.com/BLE
4Depending on settings