Golfikell Garmin Approach S6 on hinnatuim GPS kell, kerge, optimaalse disainiga.
Our Most Advanced GPS Golf Watch with Lightweight, Performance Optimised Design
Dedicated CourseView button displays exact distances and the true shape and layout of an entire hole, including tee box, fairway and green
High resolution, sunlight readable and glove friendly colour touchscreen
Smart Notification allows you to receive email, texts and alerts directly on your golf watch from your iPhone® 4s or later
Precise distances for more than 38,000 international courses; no subscriptions or fees
Features Swing Training for a more consistent and balanced swing
Garmin Connect for Golf lets you play, analyse, share, and compare your round; visit GarminConnect.com for more details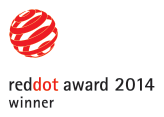 The Approach S6 is the slim, lightweight, feature-packed high-resolution colour touchscreen GPS golf watch with first-of-its-kind swing metrics that was even awarded with the most famous reddot insustrial design award.
Remove the Guesswork
S6 features full-colour course views for more than 38,000 international courses and a dedicated CourseView button to get you to the second shot view quickly. Preview doglegs, bunkers and water hazards and pin positioning from wherever you are on the course, or clubhouse.
Instant, Simple and Precise
S6 delivers what a golfer wants – it automatically detects the golf course and handles hole to hole transition. On the course it shows at any time correct yardages to the front, back and middle of greens on a high-resolution, glove-friendly colour touchscreen. It offers distances to doglegs and layups, customised yardage points (mark bunkers and hazards).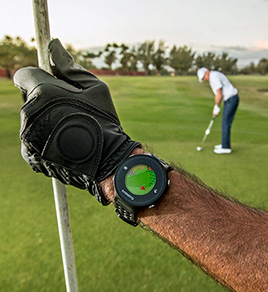 Get on the Green
Zero in on the pin with Green View. Just tap the flag on the map to zoom in on the green — then you can drag the flag to position it where you see it, giving you more accurate yardage.
Keep Handicaps, Scores and Measure Shots
S6 has handicap scoring options for individual holes, player's local handicap or index/slope method. Scoring options include Stroke play and Stableford, and you can save, review, share and print scorecards from your computer. Plus, when you hit a big one you can see how far it went with the Measure Shot feature. S6 even allows comprehensive stat tracking – keep track of fairways hit, greens in regulation and putts per round.
PinPointer
The PinPointer blind shot assistance feature gives you a directional arrow to the green. Now you can know where to line up your shot, even if you are in the woods or deep in the rough
Stay Discretely Connected
Stay Discretely Connected Smart Notification lets you receive emails, texts and alerts right on your watch, even if you're in the middle of the fairway. S6 acts as a wireless extension of your smartphone from your iPhone 4s or later, let's you know you have a message, and displays the full text on its own screen whenever you're ready to read it.
Swing Training
SwingTempo and SwingStrength are new features on the S6 that help you when you're practicing by providing swing timings and swing strength comparisons. Swing tempo is the timing ratio between the backswing and downswing and is useful for getting your swing in the right rhythm. If you're having trouble hitting the right tempo then TempoTraining is available which allows you to select from ideal speeds and uses audible tones to help you achieve that speed. Swing strength is a percentage of how hard you swung compared to your set full swing. This can be useful when practicing consistency in how hard you swing. It can also be used when trying to dial-in less than a full swing.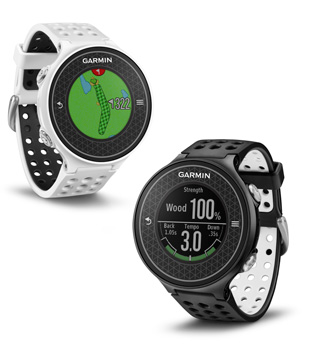 Play for longer no matter the weather
S6 features more battery life for longer play. Easily get in a weekend of golf with up to 10 hours in full GPS mode up to 12 weeks on watch mode, before the lithium-ion battery needs to be recharged. Even heavy rain and harsh conditions are no problem for this 5 ATM(50 meters) water rated watch.
Preloaded Courses and Free Updates
The S6 may be our lightest, thinnest golf watch, but we've preloaded it with more than 30,000 international courses — without extra fees or paid subscriptions. In addition, you'll be able to download free course updates whenever they become available.
Garmin Connect™ for Golf
Garmin Connect is the online golf community that lets you play, then share and compare. Download your round, compare it to your last round and track improvements to your handicap for every course you play. Garmin Connect for Golf can even assemble your ideal round combining your best score for each hole to get your ideal 18 for that course.
An Everyday Watch With Style
The S6 tells you the time, features an odometer to see how far you've walked and even has a round timer to keep track of how long it takes you to play 18 holes.
¹Smart Notification: Compatible with iPhone® 4S and later and OS7 or later. iPhone is a trademark of Apple Inc., registered in the U.S. and other countries.
²Garmin Connect: accessible through Smartphone and Garmin Connect Mobile app for iPhone 4S or later and Android 4.3 or later with Bluetooth 4.0