The golf laser range finder with GPS
Full-colour 2-D course view mapping is integrated in the viewfinder display for more than 41,000 courses worldwide
Shows a detailed green view in a 2-D overlay with front and back information as soon as you lock the flag
Most accurate distance measurements, within 10″ to the flag, up to 350 yards (320 metres)
Image stablisation reduces shakiness and makes it easier to find and range the flag
PlaysLike Distance feature adjusts distances based on uphill or downhill slope; turns on or off for tournament play
See the game differently
Approach Z80 laser range finder with GPS is the most accurate laser range finder available. It also gives you a new perspective on more than 41,000 courses worldwide. Looking through the viewfinder, you can see the view you ranged to as well as a full-colour CourseView overlay in 2-D for the hole you're playing, showing distances to hazards and to the front and back of the green. Then when you activate the laser range finder, you get absolute precise distances to any ranged target within 10". The Approach Z80 automatically determines which hole you are currently playing to provide appropriate course layout and par information.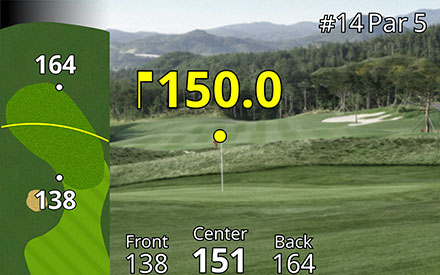 Lock onto the flag
Image stabilisation makes it easier to find and range to the flag. The ingenious flag finder locks on the flag of any hole. After flag lock, the view finder changes automatically to add a detailed 2-D view on the green layout plus distances to the front and back of the green. The view through the range finder shows the hole at 6-times magnification for clear, crisp views with augmented map overlays that show the hole layout.
Help for uphill and downhill shots
The PlaysLike Distance feature adjusts yardages for uphill or downhill shots based on the change in elevation from where you are standing to the location labelled on the map. This makes figuring out which club to use for uphill and downhill shots much easier. And for tournament play, you can turn PlaysLike Distance on or off. There's even a PinPointer feature that helps show you the direction to the green on blind shots.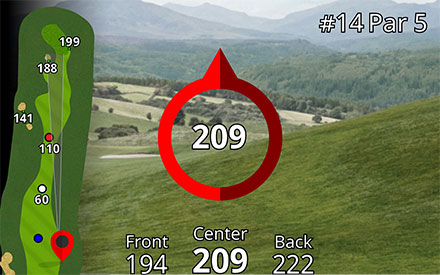 See what's in play
Once you range an object, the Laser Range Arc feature draws an arc on the 2-D course view map at the distance the laser ranged, so you can see everything that is in play at that distance.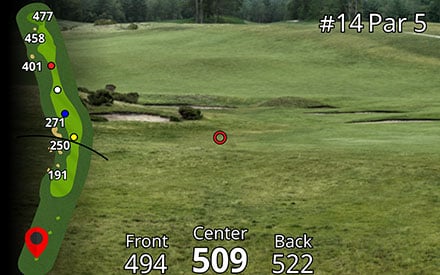 General
Unit dimensions: 122.9 x 80.0 x 42.1 mm
Weight: 226 g
Battery type: rechargeable lithium-ion (non-replaceable)
Battery life: Up to 15 hours
Water rating: IPX7
Interface: USB
Full colour OLED display
Diopter adjustment (+/- 4)
Tournament mode (disables non-conforming features)
Laser range finder
Laser range to flag: 350 yards/320 metres
Laser accuracy: +/- 10″ (25 cm)
Magnification: 6x
Flag Finder with visual confirmation laser has locked onto the flag
Image stabilisation
Laser range arc (displayed on map)
PlaysLike Distance (slope correction)
GPS and maps
More than 41,000 preloaded course maps
2-D course maps displayed in viewfinder
Green View (automatic when laser ranging the flag)
Distances to hazards and layups
Distances to front, centre and back of green
Drive distance arc
Free course updates
Auto hole transition
Par information for each hole
Auto zoom
PinPointer (for lining up blind shots)